Netscape IBM Host On-Demand:
An important objective of Netscape applications is to bridge the gap between host systems data and intranets. Netscape Communicator Professional Edition now offers this solution with IBM Host On-Demand. This application is written by IBM in Java and provides terminal access to any IBM or compatible 3270 host system. Accessing systems or applications such as MVS, VM, PROFS, and DB2 from within Netscape Communicator is now simple and easy. IBM Host On-Demand requires only two pieces of information to get started - host and port number. Even these can be preset and locked by the administrator using the AutoAdmin component within Communicator Professional Edition and the Netscape Administration Kit, which makes connecting even easier.

Features: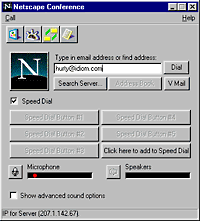 * Easy-to-use TN3270 host emulation requires only two choices to get running - server to connect to and port name.
* Multiple persistent sessions allow more than one 3270 application session to run at one time.
* Resizable session windows have dynamically adjustable fonts.
* Mapped 3270 keyboard function keys.
* Full HTML help.


Available in
Netscape Communicator 4.0 to 4.7 professional edition (enterprise with calendaring).



SillyDog701 Netscape Sections:
* Browser Archive
* Knowledge Base
* Message Board