Netscape Calendar:
Netscape Calendar enterprise scheduling software supplies the necessary tools to coordinate people and resources.

Features: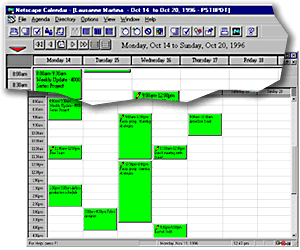 * Provides enterprise calendaring and scheduling.
* Allows delegation of schedule.
* Searches for free time on local and remote servers.



Available in
Netscape Communicator 4.0 to 4.7 professional edition (enterprise with calendaring).

See also: What happened to Netscape Calendar?




search
inside SillyDog701
sponsored links