Netscape Collabra:
Netscape Collabra software makes it easy to share information and create a "knowledge base" that people can access at any time. Eliminate unnecessary meetings and save valuable time by discussing important issues in public or private online discussion forums. Netscape Collabra extends open Internet standards to create a powerful collaboration tool for corporations that seamlessly integrates with Netscape Collabra Server software.

Features: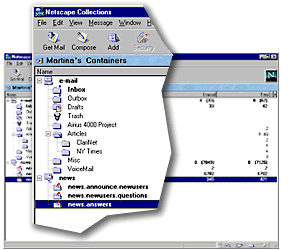 * Supports open-standard NNTP architecture with access to Internet newsgroups.
* Allows user-friendly forum names for discussions.
* Structures discussions using categories.
* Supplies access controls for private discussions.
* Allows searching across all forums.
* Lets you mark important postings or ignore others with user commands and filters.
* Supports offline reading and posting.
* Creates and posts rich HTML documents using the integrated Netscape Composer component software.
* Provides one central place to manage email and discussion postings.
* Permits secure communication with SSL support.

Available in
Netscape Communicator 4.0 to 4.08 standard edition (base and complete), professional edition (enterprise with calendaring).



SillyDog701 Netscape Sections:
* Browser Archive
* Knowledge Base
* Message Board