Netscape Composer:
Netscape Composer software lets anyone create intranet documents, web pages, and rich email messages. Using Netscape Composer, authors can use the power of the web to communicate quickly and effectively.
Features: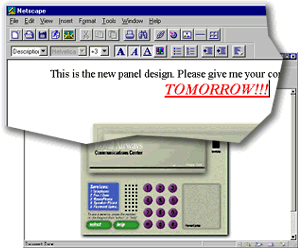 * Allows one-button publishing of documents to a server.
* Supports rich formatting, including fonts, styles, paragraph alignment, and bulleted and numbered lists.
* Includes built-in spelling checker.
* Supports drag-and-drop images, links, and Java applets.
* Includes Page Wizard and page templates.
* Enables easy table creation and editing.
* Supports user authentication for publishing.
* Supports FTP and HTTP publishing support.
* Provides extensible editor plug-in API for adding new functionality to Netscape Composer.

Available in
Netscape Communicator 4.0 to 4.08 standard edition (base and complete), professional edition (enterprise with calendaring).



SillyDog701 Netscape Sections:
* Browser Archive
* Knowledge Base
* Message Board