Netscape Conference:
Netscape Conference software offers organizations solutions to leverage their investments in network connectivity for real-time conferencing interactions over the Internet and intranets. Netscape Conference sessions allow organizations to increase the effectiveness of workgroup, departmental, and cross-functional communication by letting users browse through documents, sketch on a collaborative whiteboard, exchange information, and talk in real time with colleagues anywhere in the world.
Features: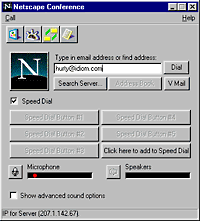 * Integrates with Netscape Messenger address book.
* Supports H.323 audio/video conferencing.
* Supports dynamic IP addressing.
* Calls through your modem or LAN.
* Supports multiple platforms.
* Supports voicemail.
* Dials by email or IP address.
* Includes Web-based directory.
* Includes whiteboard capabilities.
* Provides chat capabilities.
* Enables file transfer.
* Enables collaborative browsing.
* Supports plug-ins.

Available in
Netscape Communicator 4.0 to 4.08 standard edition (base and complete), professional edition (enterprise with calendaring).



SillyDog701 Netscape Sections:
* Browser Archive
* Knowledge Base
* Message Board