Netscape Messenger:
Netscape Messenger software is a new email client that delivers exceptional functionality to corporate users. It is built on open Internet standards, ensuring that it is part of a low-cost solution. Netscape Messenger delivers on the features that users want most, such as rich-text mail, encryption, directory access, and support for mobile users, using all open standards. Netscape Messenger also integrates seamlessly with the Netscape Messaging and Directory Servers, as well as with any open-standards mail server.

Features: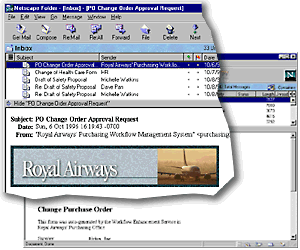 * Integrates with Netscape Composer to create rich HTML email with embedded images.
* Allows you to encrypt and digitally sign email using S/MIME.
* Supports open standards, including IMAP4, SMTP, and POP3.
* Provides LDAP directory access.
* Includes integrated address book with expanded fields. Address book supports Netscape Conference.
* Lets you exchange digital business cards with vCard support.
* Includes spelling checker and organizes email with hierarchical folders.
* Searches email on your computer or server and sorts email with filters.
* Provides an enhanced user interface.

Availability:
Netscape Messenger is available in all versions of Netscape Communicator 4.0 to 4.8 standard edition (base and complete), professional edition (enterprise with calendaring); except Navigator standalone edition. From version 4.5, Netscape Messenger is integrated with Netscape Collebra.



search
inside SillyDog701
sponsored links