The Early Days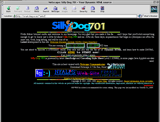 SillyDog701 started as a personal homepage of Antony Shen in the beginning of 1997. Nothing special back then, just an average personal homepage with some dynamic HTML effects. Yes, Netscape's dynamic HTML. The homepage featuring 5 sections, Contents, About Me, What's New, Feedback, and Acknowledgment. Today, SillyDog701 still has those 5 pages.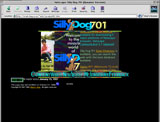 So what was the first dynamic html like? It was a damn cool feature back than, because Flash was not available yet, and I did nto use the slow Java Applet. The entire dynamic was created with Netscape's JavaScript and CSS, and specially its <LAYER> tag. The first dynamic was featured in the front loading page. It has swap-sliding effect and the news (typewriter) scrolling effect, plus the sliding panel. The page was designed for Netscape Communicator 4.xx, you can still play around the dyanmic effect here. (Note: you will need to use Communicator 4.xx, newer versions won't work.)

Now, the first masterpiece, Netscape Communicator Tips in pure dynamic HTML. The entire page if full of dynamic HTML. Dynamic HTML is no thing special, but it was when Netscape Communicator was just out. Since then, I learnt more of web design and love Netscape so much.

Netscape Browser Archive
http://sillydog.org/narchive/
During 1999, I worked as an editor for Open Directory Project (DMOZ.org), by a chance, I noticed Nick Barrett's Netscape Browser Archive. I seeked the right to mirror and enhance it. Not long after, the original Netscape Browser Archive were no longer maintained and the SillyDog701's Netscape Browser Archive became the most popular section of SillyDog701.

The main focus of Netscape Browser Archive is not just links for all new and old Netscape browsers, but also the popular Netscape Streamline series.

For more detail, please see: About Netscape Browser Archive

Message Centre
http://sillydog.org/forum/
Since the very beginning of the Netscape Browser Archive, there has been a forum for all the support. The supporting forum soon became the heart of SillyDog701. In 2001, the forum became Netscape Browser Archive Message Forum, and it is still available for archiving purpose.

In July 2002, a new message board has replaced the old forum. Although it is based on the popular phpBB forum, there are a lot of customisations to give it a unique feeling of SillyDog701, no need to mention the very unique UserAgent String displaying along the posts.

SillyDog701 Message Centre has soon became a friendly community centre, not just Netscape/Mozilla supporting forum.


MozInfo701
http://moz.sillydog.org/
MozInfo701 is a SillyDog701 approach after Netscape Browser Archive. We are not just a Netscape site, but also provde information and support for Mozilla, Firefox, Camino users. All important news will be posted in MozInfo701 as headlines. We are proud to be the first Mozilla-news website to report the Netscape Prototype Program (Netscape Browser Review Program) on 16th November 2004.
MozInfo701 do not just provide news articles, but also a directory ( MozInfo701 Directory ), providing a great doorway to other great websites. We will expand Mozilla Product guides.

MozInfo701 can be found at http://moz.sillydog.org/


Switch Guide
http://switch.sillydog.org/
Switch Guide is devoted to assisting and encouraging users wishing to switch from Microsoft Internet Explorer to a safer and better-performing alternative in Netscape, Mozilla, or Firefox and Thunderbird.

Switch Guide can be found at http://switch.sillydog.org/


MacCentre701
http://mac.sillydog.org/
MacCentre701 provides Macintosh and x86 emulator news and information.
QuickTime codec comparision is a highlight in MacCentre701.

MacCentre701 can be found at http://mac.sillydog.org/


AntBlog701
http://ant.sillydog.org/
AntBlog701 is Antony's personal space. From the name, it is clearly an online weblog section for the owner of SillyDog701. The blog includes all sorts of issues and things happening around Antony's life, AntGallery701 - a photo gallery, and AntTunes701 - a music guide and iTunes gateway.
search
Related Sections:
* About Netscape Browser Archive
* About Message Centre
* Acknowledgment
* About Antony Shen


SillyDog701 sections:
* SillyDog701 (main)
* MozInfo701
* Switch Guide
* MacCentre701


See Also:

* Evolutions and Changes

* Year 2002 Review

* Year 2004 Review

* Thanksgiving 2005 letter (Year 2005 Review)




Inside SillyDog701:
* Netscape Browser Archive
* Browser Version Guide
* Message Centre
* Netscape Knowledge Base
* MozInfo701
* SillyDog701 Sidebar
* AntBlog701



sponsored links

Softail standard

- shop online for harley davidson parts & accessories at surdyke.com.

Mannatech

- health and nutrition products.